Need help picking your next favorite pair of shoes? Not to worry, ShoeDazzle has shoes for every occasion and we've got the inside scoop from Rachel Zoe on styling the perfect pair.
ShoeDazzle's new chief stylist, Rachel Zoe, is a knowledgeable fashionista and go-to expert for advice about how to stay fabulous this spring. She's sharing three of her favorite shoe trends and spring style must-haves.
Rachel's first look is a go-to for the everyday working woman. The outfit is business appropriate yet still chic. She pairs the business attire with a new silhouette trend, t-straps. Rachel chose the Jenny lavender heels for this outfit, as well as the Raelynn gladiator heel and the June shoe in black or nude. If you're going to rock the Raelynn, Rachel says, "Wear them with black skinny pants and a blazer to nail down a professional look." The June shoe is best to wear with long gowns.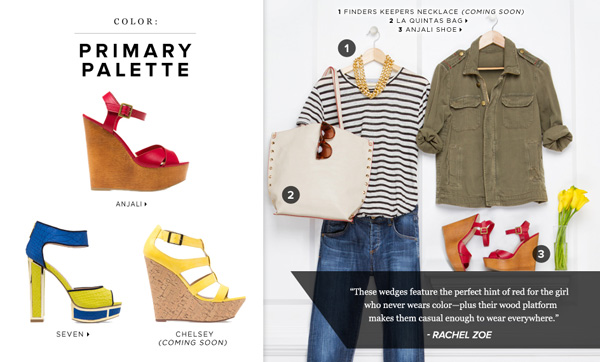 In her second lookbook example, Rachel makes it clear how important color will be in our April wardrobes. Primary-colored shoes can help us liven up everyday outfits as well as keep up with our Friday night attire. "These shoes may just inspire you to throw a party," Rachel said of the Sevens in yellow and blue.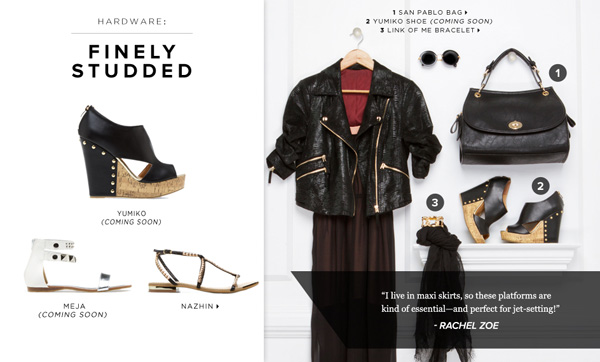 Studs show no sign of slowing down. We couldn't be more excited — shoes with stud details are sure to grab attention at any outing and are perfect for those who aren't big on accessorizing. Rachel paired the "Yumiko" platforms with an all-black maxi dress and labeled it "kind of essential" for any fashionista's wardrobe.
Read more here.